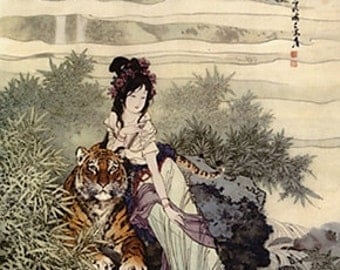 Cruise of the Tigress.
RUN!
The screams still fresh in our memories when our waiter shouted out to us. At our last stop of this cruise a Bengal tiger has sneaked on board. What should have been a trip of a lifetime for many of the passenger became a nightmare. Smears of blood across the deck. Limbs stuck between the deckchairs on the sun deck and the pool a water colour fresco of red and blue. The tiger being the artist as he slashed around his huge claws. Sinking his teeth in to those scared people who tried to protect them selves.
People are scattered all over the ship, locked up in their quarters, kitchens and dinner halls. The last screams that were heard were those of the captain. His dying words the places the Bengal has visited. A casino, the kids playground, the sun deck, the pool and now also the captains wheel house. From the bottom of the ship, the hard working sailors in the engine room, voices were heard of a plan to capture the tiger on a lifeboat and let it go into the water.
If men were to reach a kitchen they would fill a burlap sack with fresh fish and lure him or her to a boat with even more fresh fish.
On the port side a small room with a single bed is occupied by two people. A bride who had her dress ripped to shreds and is covered in blood. Her face a pale white covered by trembling hands. The newly-wed has lost her fresh husband to the tiger when he tried to protect her with a shuffle board paddle. In the arms of her saviour who opened the door hearing the ruckus and agonizing screams of despair. This small boy was a waiter who would start that night serving drinks in an 80's disco setting.
Her tears kept oncoming and the speaker turned on. A loud beep had Roberto the waiter stiffen in fear. Anxiety seen in his wide open brown eyes. Even Deborah is staring at the speaker with her Alice Cooper eyes. All her mascara created black circles around her jade eyes and ran out to her cheek. The silence was crystalline. One would be bale to hear a pin fall on a carpet. It was hat dead silence.
"We from engineering would like to inform you that our plan of luring the tiger to a boat has failed. George has given his life in trying to save us all. Please do not give up hope, I am sure radar will show we are at drift uncontrollably. Hang in there as we will not give up just yet."
The news was devastating and Deb went back to crying again. He high pitch in her voice went through the bone as she announced she was surly going to die. Her mummy warned her about getting married to this man. He was nothing but bad news.
"I want it to get over with, we are going to die, I am sure we will die." Her voice just went up a tone and her sanity clearly had left her.
"I cannot take it any more, I need to get out of here, somebody help me"
With all his might Roberto held on to he panicking lady who tried to open the door and take a run for it.
"please miss, calm down, we will be okay. Please calm down. Not know where tiger is and we do not want get his attention"
From the other side of the door a roar is heard and the two hold still and carefully step back and look terrified in realization the tiger is on the other side of the door. Deb clasps her hands together and whispers her prayers.
BANG
The door moved in its hinges.
BANG, squeak
Another go at the door, this time he nails ran along the wood with a ear deafening squeak.
"Why are you not giving up, leaves us alone" Deborah has lost control over her nerves and emotions and screams from the top of her lungs. Her cries must be heard all along the corridor making those who are still alive shiver in fear of who will be next. The silence dreaded the most as it means it is on the prowl again.
Four punctures are made in the door and a hinge has let go. These doors are not meant to keep an 300 KG weighing animal out or in. the roar is loud before the door gives in and the tiger stares in the eyes of Roberto and Deborah. His shoulder rock up and down as he approaches Deborah. Roberto standing next to her keeps an arm around her and is witness of happens next.
The tiger purrs like a kitten and has Deborah jump up in fear of being eaten as he rubs his head across her blood covered dress. Both of them stand there unable to utter a single word as the big tiger turned in nothing more than a playful kitten. Rolling on his back and rocking left and right with a paw up in the air catching invisible butterflies. The room to tiny for the three of them Roberto and Deborah squat on he bed and look down onto that blood covered killer. Playing as if it just got a new toy to play with.
With doubt in their hands that tremble like a leave in storm, they try to pet the orange striped cat who is happy to stick out his neck and has the hands land between his rotating ears. As the tears dry and become smiles. The roar sounds like a fog horn. Not sure what just happened Roberto and Deborah laugh out loud and walk our of the tiny room.
And Bengal Tiger followed them silently to their amazement. Was this a sign from the heavens.
The End.
©Ranting Crow 2014
This is my try at an hour write. The prompt can be found at a girl who writes. Join in on the fun. And share your story. Have a read of the other writers who joined in on the fun. Look out for next weeks Prompt.
Other stories posted are:
As for McSniff and the Fishy Lighthouse. Well they be on, a little later today. Yes today you be getting two posts from me.  Hope you enjoyed this prompt.
Best Wishes
Ranting Crow